---
Casual Glamor I

It's WOOD - with a little bling making Mike the star of this pendant. Lovely on a long chain!

Price: $85.00
---
Chrysocolla Dave

What a gorgeous and translucent color is this pendant. Our Large sized Dave fits perfectly across the bottom and is balanced by the size of the sterling corner bezel which secures it.
Here's what Bernardine.com says about chrysocolla:
Folklore, Legend, and Healing Properties:
* Creativity, female energy, communication, relieves ulcers and arthritis.
* Chrysocolla is associated with tranquility and peace, intuition, patience, and unconditional love. It is thought to offer gentle and soothing qualities.

Price: $165.00
---
8Ball

8Ball is our Main Man- er...greyhound. Not only because he's so highly admired, but because his shape accommodates so many different uses. You'll see all three sizes of 8Ball often on our website, and an even tinier version as well - as in earring studs on this page.
The first, and original size is available as a charm, with a spring ring for affixing to your bracelet, and as the one shown here, with a fixed bail set perpendicularly to slide on a chain. He measures .75" from side to side.
Price: $40.00
---
Ab Fab I

Remember that show AB Fab? Absolutely Fabulous? It seems a greyt name for the new Absolute pendants from the 2017 Tucson Gem Show, starting with THIS one: lapis and opal with Original sized 8Ball.

Price: $225.00
---
Ab Fab II

Obviously Absolute and Absolutely Fabulous! Mike stands out against a fossil background with this company's framing skill of inlay - not he bail, too!

Price: $185.00
---
Abalone at its best!

Marta Howel Designs cover everyone's taste- from the very simple, to more unique, to really dressed up! Very large to very small- these two give you a choice between our original sized 8Ball with blue topaz accent and our Large sized 8Bal with amethyst accentl- both gorgeous, one just bigger in every way.

---
Abalone Plus I

Price: $125.00
---
Amber Inlay

The first of three I purchased: complicated design in a simple setting, this really appealed to me. Hope you feel similarly!

Price: $150.00
---
Ancient Glitter

This circle of quartz druzy has been inlaid into a dark stone of fossilized material in browns and blacks- just stunning! Some parts of the druzy circle are totally open while others are sufficiently translucent that the blue background shows through.
Adorned with our Large Sized Dave, this 2.25" pendant is a statement maker!

Price: $250.00
---
Aurora Borealis

That's what it looks like, doesn't it? A beautiful piece of abalone with a giant pearl and Snoozer.

Price: $145.00
---
Boulder Opal

Even though the light blue inclusions are not the neon-shimmery color of many opals, this is still Boulder Opal and I like the natural/uneven finish on Mike's background.
I took the photo from an angle so you can see that this is a thick pendant- nearly 1/4"! Just lovely!

Price: $140.00
---
Brand New Amber 2

Of deep amber and butterscotch amber colors, you won't be able to see it in the picture, I don't think, but Tiny 8Ball rests inn a perfectly sized little depression in the upper stone. Lovely!

Price: $125.00
---
Brand New Amber 3

Dark fading to light, this is a beautiful and a bit translucent stone featuring our original sized 8Ball.

Price: $135.00
---
Butterflies #C

Compare the size to the 1: map pin- these are the largest of the pendants: 2" tall!

Price: $110.00
---
Butterflies #F

---
Chrysophase

And what a hunk of chrysoprase this is, too! Seeing this pendant straight on shows that it is beautiful (so is Betty!) but wouldn't show you that this pendant is 3/8" thick! It's heavy with sterling and a beautiful color.

Price: $175.00
---
CJ COLLECTION I

When you see them all together, it makes it difficult to choose, doesn't it? Different colors, different shapes, different dogs....You'll see I have included chain length in the drop-down choices.
I'm an admirer of this clever young local artist.

---
CJ COLLECTION II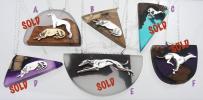 Every pendant (with one exception in III) comes with its own chain. Chain length is included in the drop down menu.

---
CJ COLLECTION III

... and just a few pair of earrings in this set.
the centerpiece, with Runner on a deep purple acrylic, is a little larger than the others, thus has a heavier bail awaiting your own chain.

---
CJ Set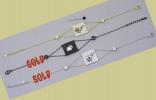 This clever pendant of wood and acrylic by Christine Jones has a matching set of earrings- sold as a set only. The chain measures 20".

Price: $115.00
---
Cultured Opal

Yes, again. I've added new ones for the last time- this is all I have until February in Tucson. If this company brings them again, I'll buy them again!
I am always happy to encounter this vendor - they manufacture cultured opal for the jewelry trade, showing row upon row of 2"opal squares in every color imaginable.
This year they had six dog tags available and again, I bought them all. They all glimmer more than I can photograph properly. The 23" teeny tiny bead chain is included.

Price: $85.00
---
Delicate Sterling Mike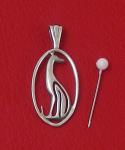 I suppose you could say that Mike is THE classic for Northcoast Greyhounds. He's our earliest design still in circulation, and remains our best selling pendant.
Price: $50.00
---
Dendrite

Dendrite with aquamarine accent featuring Tiny 8Ball

Price: $200.00
---
Fleur de Lis Dave
A new addition. Small and feminine, Davie just fits across the top of this Fleur de Lis with its little sterling dangle at the bottom.
Price: $65.00
---
Fosilart

Of course you recognize David Lawrence's Fosilart- these little pendants are the last of my collection from last February- making room for more next February!

---
Fosilart Long #2

One more long and lovely design by Ed Lawrence of Fosilart featuring our tiny 8Ball. 32" not counting the pendant.

Price: $110.00
---
La La Labradorite

The shimmery blues of labradorite are accented with blue topaz and sapphire (not really) on Snoozer's pendant. He's ALL dressed up!

Price: $85.00
---
Labradorite +

This rectangle of labradorite is particularly blue- particularly shimmery- thus the perfect background for Mike!

Price: $145.00
---
Larimar Mike
It's not easy to find Larimar at an affordable price, but we did! And we like this piece especially because it looks as though Mike has his head in the clouds!

Price: $125.00
---
Lavender Agate

I'm guessing that this unusual agate has been tinted- how else would one get such dramatic color in an agate? The most interesting thing about this stone, though, is the clean line of division between the lavender and the translucent part of the oval.
Very cool!

Price: $110.00
---
Loveliest Lapis

"Kaiser" brings a showcase full of lapis to the Tucson Gem Show from his German workshop every year, and every year I purchase from him.
The quality of Kaiser's lapis needs no embellishment by a setting and I admire the simplicity of this stark and dark blue background to emphasize our greyhounds.
These perfect lapis chunks are hand cut and drilled with a hole through the top and measure 1/4" in thickness.

---
Luxurious Lapis

Truly a luxurious and perfectly square chunk of lapis- note the clarity of it's deep blue. The "bail" is actually part of the pendant's design- not to overshadow Brynn, of course!

Price: $165.00
---
Marcasite

Marcasite with Pink Tourmaline Accent

Price: $200.00
---
Marcasite II

Marcasite with Watermelon Tourmaline Accent

Price: $200.00
---
MH: Pawa Shell

Actually, Im not certain of the difference between Pawa Shell and Mother of Pearl but Marta Howell calls it Pawa and this is their design. :)

Price: $90.00
---
Mica In Slate

A spectacular new stone that I've never before seen. The mica appears to erupt from the natural cavities of the slate and glistens like hidden treasure.
The artist who made them said the trick is to split the stones with a sharp edge rather than cutting smooth surfaces.
The slate is matte black- any lighter surfaces are caused by flash and inept photographer.
---
Mike on Pietersite

This deep blue chunk of Pietersite is intended to hang at a slight angle towards its weighty sterling side but Mikie sits up straight as an arrow!

Price: $150.00
---
Ocean Jasper

Yes, endangered.... of slipping from workshop drawer into Cara's personal jewelry drawer. Isn't it fabulous?
I try, I really do, to stay within a more reasonable price range, but this particular Absolute pendant just spoke to me with its muted pastels, it's basic rectangular shape, and the tubular inlaid bail.
Doesn't the ocean jasper look like a flower arrangement going right up the middle? I had difficulty figuring out where to place Brynn so as not to hide any of this stone's exquisite pattern.
If this pendant sits here too long, I'll have an excuse to move it into private stock. :)

Price: $260.00
---
Opal in Pastels

The pastels in this "white" cultured opal piece by Johnson Hui shimmed delicately behind our original sized 8Ball.
Price: $110.00
---
Peanut Wood...

Petrified Peanut Wood has the most beautiful contrasting patterns - it's why, I suppose, it's always a popular purchase.
Price: $80.00
---
Power Pawa Shells

I often purchase Marta Howell's little plain rectangles of abalone and paws shell- or those with a single semi-precious stone. They're like perfect little picture frames for our smallest Designer Dogs.
MH designs, however, are not all plain and simple- they do glamor, too, as you can see here with these two curvy pendants with hidden bails. They're just more pricy. Gorgeous, though!

---
Rutilated Quartz

Rutilated Quartz with Rubenite Tourmaline accent

Price: $200.00
---
S&G: Gold & silver

Another by Stems & Gems, this lapis pendant seems to fit Mikie to a T. The sterling bezel holding this raised stone is sterling, but is wrapped with gold fill wire. The background, too, is an etched silver frame, but with a pretty little scalloped edge in gold.
Again, this pendant has the "convertible" bail which means it can be opened to add to a string of beads or a larger necklace.

Price: $160.00
---
Sunset at Dog Beach
Doesn't every beach town have a "Dog Beach" like San Diego has? Brynn appears to be taking advantage on a romp at sunset.
I'm sorry I can't identify the stone, at least this evening. If I can find out, I'll change this description.

Price: $150.00
---
TQ Treasure

Another quality Absolute pendant- they create such tasteful designs, don't they? Love that tiny touch of bright yellow in the inlaid bail.....
This pendant features our Large sized Davie...

Price: $225.00
---
Waterfall

Brynn is on another adventure- this time at a mountain waterfall on Chinese Picture Stone. Amazing, isn't it?

Price: $150.00
---
Western Mosaic

Unlike the flat inlays I almost always choose from Absolute, the stones in Mikes little pendant each have their own individual shape and form. Way more interesting than flat, don't you think?
And, as with all of Absolute's quality crafted products, the matching bail is what makes it most special. :)

Price: $160.00
---
XL 8Ball

XL 8Ball is a highly noticeable piece, measuring 1.25" across. You'll see him mounted upon some stunningly large jewels, or all by himself as in this picture with both hidden bail for wearing on a chain or pin for wearing as a broach. It was one of our customers who insisted he have both- an excellent idea, too!
Price: $100.00
---