---
Pastel Pairs
Featured Item!

These little imported earrings have braided edges on their sterling bezels- a bit of a fancy touch!
Brynn's background stones of ocean jasper, on the left, measure 1.125" in height- not counting the ear wires.
A pair of Graces appear within circles of Amazonite on the right.
Rather than add the raising cost of Priority Mail, we'll ship in gift bag and padded foil envelope for $4.

Price: $55.00
---
Mahogany Jasper Earrings

You can see by the comparison to the 1" map pin that these earrings are about an inch in height. The Mahogany Jasper's deep tones are enhanced by the frilly sterling bezel.
A perfect setting for our Tiny 8Balls, right? He really stands out against this stone's rich background.

Price: $75.00
---
8Ball Earrings

First offered over 15 years ago, 8Ball remains one of our most popular designs, and comes in 4 sizes. Here he is in his original size as earrings.
Price: $70.00
---
Studs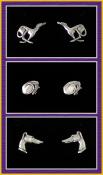 Not greyhound studs- earring studs!

Price: $40.00
---