---
8Ball Earrings

First offered over 5 years ago, 8Ball remains one of our most popular designs, and comes in 4 sizes. Here he is in his original size as earrings.
Price: $70.00
---
CJ COLLECTION III

... and just a few pair of earrings in this set.
the centerpiece, with Runner on a deep purple acrylic, is a little larger than the others, thus has a heavier bail awaiting your own chain.

---
CJ Set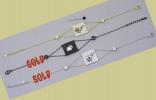 This clever pendant of wood and acrylic by Christine Jones has a matching set of earrings- sold as a set only. The chain measures 20".

Price: $115.00
---
GF: Little Red Earrings

Similar to the lavender earrings in the necklace set and could be worn in their stead for additional color.

Price: $70.00
---
Studs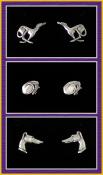 Not greyhound studs- earring studs! Brynn, the widest of the three, measures a little more than half an inch in width.
Brynn is temporarily out of stock, but has been ordered.
Price: $40.00
---