---
Susan Lewis' Colorful Totes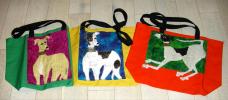 These three are the same size- the one on the right only looks bigger because of the way the dog is placed.
1(" X 14"

Price: $45.00
---
Susan's Totes- Mismatched!

The tote on the left is one of the originals on natural canvas and witht with the bigger jewel! :) 19" X 14"
The tote on the right is the most recent and a bit larger with designer fabric. 19" X 17"

---
SL: Special Order Tote Bags

Though you'll sometimes find greyhound tote bags in stock on this page, not everyone knows that Ms. Lewis does an excellent job with other breeds and other pets- even people! Not ALL your friends have greyhounds, right? All she needs is a photograph which you can email to Cara@NorthcoastGreyhounds.net
As you'll see below, the basic Special Order Bag is $45. Add a second figure (a kitty? another dog? your friend?) for an additional $5.
For expediency's sake, Ms. Lewis will ship your bag to you directly from Blue Lake CA in a Flat Rate Envelope, so sorry, no gift wrap is included.

---