Katie Brockhoff 2001-2013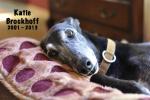 July 8. 2013
Ranco Quick Kate, according to GreyhoundData.com, won 15 of her 110 races and had 15 offspring. We didn't know Kate back then, of course. We met her in July of 2009 after calling Greyhound Friends for Life requesting a senior girl, preferably black. Katie, it seemed, had been adopted to another family who returned her because she wasn't bonding. She was bonded to Jerry, however, by the time he returned from picking her up in the Bay Area, and once home, our other greyhounds made her feel right at home.
As hard as we tried to make it so, life was not easy for Katie. In early 2010, during Humboldt's rainy season, three of our greyhounds chased a deer from our greyhound playground over a wire fence hidden in dense brush. Stu and Sammie returned, but Kate did not and we conducted an intense search for eight days in the rain by hikers, a team of quad drivers, and volunteer friends.
Even her safe return home was followed by traveling to a specialist for a skin graft which failed, and several months of healing for a wound suffered in her ordeal.
Always a thunder-phobic girl, Katie's difficult experience in dark, lonely, wet woods accentuated her hyper reaction to loud noises. We tried every holistic recommendation, finally resorting to Xanax which helped her. When Katie had exhausted herself at reacting to either real or imagined noises, she'd come to one of us for lengthy head-hugs, finally finding safety in this closeness.
There was no apparent reason for Katie to waste away by refusing food. Bloodwork, xrays and ultrasounds all appeared normal. It seems harder when there are no demons to curse- no nasty growing things upon which to place blame. Fortunately, Katie did not seem to be in pain, she just grew more and more thin and tired until our vet came today to help her cross the bridge.
This is your story, Kate: you raced. You were a Mother. You hold a very special place in the hearts of those who loved you without reservation. I have it on good word that there are absolutely no gun shots or firecrackers in Heaven. Rest in peace, our Dearest Girl. You are forever safe.