STELLA BROCKHOFF
1997-2010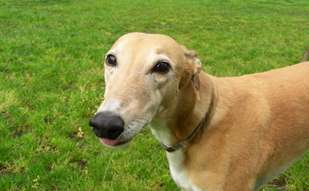 Short and sweet, our little Stella weighed 50 pounds dripping wet. A little bitty love-bug, Stella fought lymphoma until yesterday, April 18, 2010 when she made her trip to Rainbow Bridge.
"Cinderella and Blue" were returned to Operation Greyhound at ages 9 and 6 respectively, in 2006. "They have to go together" we were told, and though we rarely adopt a youngster of 6 years, we agreed to adopt both – if we wanted this sorta-senior girl, she came with baggage! Blue and Cinderella began a whole new life with our family as Stu & Stella.
It was thanks to a true greyhound angel that these two were returned to the group- we don't think they'd been allowed indoors for years, a time during which Stella and a previous female greyhound companion were both attacked by a wolf-hybrid who still lived on the premises- the other female eventually died of her injuries, Stella lost half her right ear. It was no life for greyhounds who deserve the pampering of soft beds indoors – and the assurance of safety. Jerry and I had a lot to make up for.
Stu's arrival brought one of those, "OMG, what have I DONE?" reactions- a excessively vocal wild man who has transformed himself into our most entertaining greyhound comedian ever.
Stella was Stu's opposite in every way- shy, retiring, and a little bit spooky, she owned the same bed by the fireplace in our Greyt Room, and the same corner bed in our bedroom for all four of her years with us. On walks at The Swamp, she remained within two steps of Jerry's knee, regardless of what her companions discovered to sniff or chase. When visitors arrived, Stella was one of those to make lots of noise- all while running in the opposite direction. Unassuming and undemanding - it's as though our Stella was greytful to have little expected of her, to be loved just as she was.
We did. And Stella chattered her love in return. We were blessed with four wonderful years of Stella's company.