N. Knotwork
Once I set eyes on the display of Nomadic Knotwork it was a foregone conclusion that I would bring some home from Tucson. Each piece was just too beautiful to resist and selecting only 10 bracelets took way too much time! You'll want to click on Ms. Elafi's website to see some of her really extravagant work.
The artist calls it "macrame" - but, trust me, this is not your Grandmother's macrame! Reluctant as I was to part with even one piece, I succumbed to the pleas of my shopping partner and sold her one of the bracelets I'd purchased before the greyhounds were added. Kathy assures me she wears hers every day. So consider when you view these bracelets, that though they're not inexpensive, you may find yourself wearing a bracelet lots more often than you would wear a single costly pendant.
Note that I chose only bracelets with two buttonholes to accommodate as many wrist sizes as possible.
Each bracelet will arrive in it's own silken pouch embroidered with the artist's name.
Note the artist's signature on the sterling buttons!
---
Nomadic Knotworks A
Featured Item!

First five of this new-to-the-website collection. Each bracelet has it's own individual natural stone centerpiece, and it's own Designer Dog.
These bracelets are all the same size: 7.25" on the outside buttonhole and smaller if the inside buttonhole is used.

Price: $150.00
---
Nomadic Knotworks B
Featured Item!

Five more!
Of this set, #'s 8 & 10 are the smallest at 6.5"

Price: $150.00
---
Nomadic Knotworks C
Featured Item!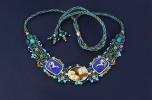 This fabulous necklace by Isha Elafi is of fossilized peanut wood and lapis and is easily adjusted to desired length by the sliding sterling bead.
Price: $275.00
---